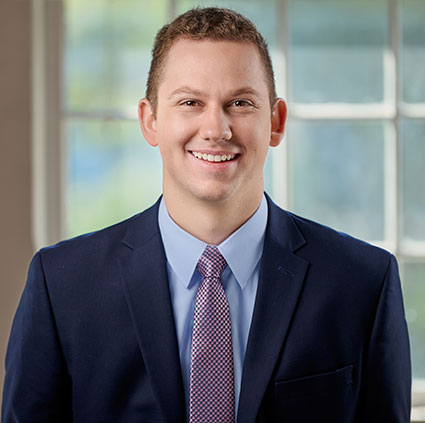 Labor & Employment Litigation
Administrative Law before Department of Unemployment Assistance and National Labor Relations Board
Intellectual Property
Austin Smith is the newest associate with the firm. He recently received his Juris Doctor from Northeastern University School of Law with concentrations in Labor & Employment Law and Intellectual Property Law. He was a Senior Editor on the Northeastern University Law Review and a Student Attorney in the IP CO-LAB, where he assisted clients in the process of attaining federal trademark registration.
He received a Bachelor of Science, magna cum laude, in Political Science from Northeastern University, and was also the first graduate of the University's 3+3 Program, which enabled him to receive his bachelor's degree and Juris Doctor in just six years.
As an undergraduate Northeastern student, Austin interned at Cetrulo LLP, a toxic tort defense firm in Boston, MA, and Pomeranz, Drayton, & Stabnick, LLC, a workers' compensation defense firm in Glastonbury, CT.
While studying at Northeastern University School of Law, Austin interned for Seth A. Salinger, a solo practitioner in Newton, MA, where he worked on wage and hour claims. He then worked as a judicial intern for Magistrate Judge M. Page Kelley at the U.S. District Court for the District of Massachusetts. Austin also worked in the Labor & Employment Practice Group at Rubin and Rudman LLP, where he assisted clients in complying with the new Massachusetts Paid Family and Medical Leave law. Finally, he interned in the Civil Rights Unit of the U.S. Attorney's Office in Boston, where he was involved in its investigation into the mental health services provided to inmates in Massachusetts state prisons.
Austin is admitted to practice law in Massachusetts.
Cetrulo LLP, Litigation Assistant
Pomeranz, Drayton, & Stabnick, LLC, Intern
Seth A. Salinger, Newton, MA, Legal Intern
Magistrate Judge M. Page Kelley at the U.S. District Court for the District of Massachusetts, Judicial Intern
Labor & Employment Practice Group at Rubin and Rudman LLP, Legal Intern
Civil Rights Unit of the U.S. Attorney's Office in Boston, Legal Intern
Northeastern University School of Law, Boston, Massachusetts

Juris Doctor

Honors: Student Attorney in the IP CO-LAB

Honors:  Senior Editor on Northeastern University Law Review

Concentration: Labor & Employment Law

Concentration: Intellectual Property Law

Law Review: Northeastern University Law Review, Senior Editor

Northeastern University

B.S., Bachelor of Science

Honors: magna cum laude

Honors: First graduate of the University's 3+3 Program

Major: Political Science
Massachusetts
U.S. District Court District of Massachusetts